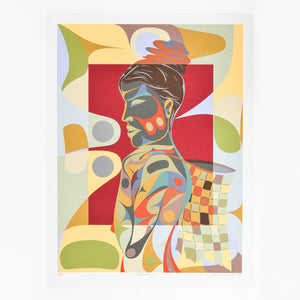 Rande Cook
Dzunukwa by Rande Cook
Regular price
$800.00
$0.00
Silkscreen Print
40" x 30"
2012
Edition of 85
According to Kwakwaka'wakw mythology, Dzunukwa is the 'Wild Woman of the Woods'. She is often portrayed as an old, unkempt ogress with long, pendulous breasts and wild hair. She is said to snatch up children and carry them home in her basket.

Rande Cook's Dzunukwa is a far cry from the monster of old. His Dzunukwa is beautiful, feminine, young, and her hair is neatly tied in a bun to show her beauty. She gently touches her shoulder, as she carries a basket on her back, that is open on the bottom.

Of the story of Dzunukwa, the artist says, "The Kwakwaka'wakw considered the Dzunukwa to be slow and dimwitted. She tried to capture children, but never succeeded. She lived alone, deep in the forest, and away from all villages."
Rande feels that we live in a society where image is everything and he dedicates this print to the beauty that lies within all women. He remarks, "The burst of colour surrounding her is the beauty of life embracing her. She is now alive, surrendering to the past and embracing her own power."

As an interesting sidenote, Linda Rogers, Poet Laureate, interviewed Rande Cook for a magazine article, during which he related to her the story of Dzunukwa, in turn, inspiring her to write this poem:

You expect an old woman,
way past her stale date,
dragging her wrinkled
breasts on the sidewalk,
curdling her milk; but I'm
as new as the weeds that
grow through the cracks in
the pavement, the young
loons singing on artificial
lakes; and I will, yes, I do
keep coming back from my
time in the woods. Huuu
uuuuuuuuuu. I come with
the animals chased from the
forest. I come with my hunger,
my thirst for justice. I come
with my old friends, my new-
every-year body painted in
designer colours, Frog spit
on my breast, Susiutl slung
over my shoulders, Star on
my forehead, and always my
blood singing through. Uh-
hooooo. You can't resist my
lips by Revlon, mouth wide
open, ready to swallow side-
walks, streetlamps, hydroponic
children growing tame in the
garden you think you own.
---
More from this collection