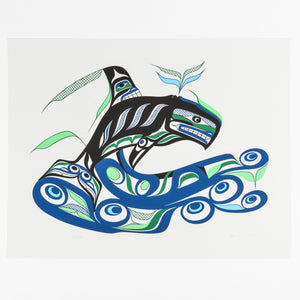 Patrick Amos
K'aka'win by Patrick Amos
Regular price
$230.00
$0.00
Silkscreen Print
22" x 28"
2021
Edition of 160
K'aka'win is the Nuu-chah-nulth word for killer whale.

"On the beautiful, stormy coast of Vancouver Island the Nuu-chah-nulth peoples lived as one with Mother Earth. The animals were their teachers, the winged ones their messengers, and transformation stories were told from grandparents to grandchildren during meals so one would 'swallow' the teachings.

Our ancestors watched the wolves sacredly leave the forests, heads bobbing from side to side and walk down to the waters edge. As they immersed themselves in the water, they transformed from wolves to killer whales and swam off into the sea. The sheer significance of witnessing this transformation kept the people patiently waiting, hidden on the beaches. The killer whales would swim back to shore and transform back into wolves.

The killer whales and wolves teach us the importance of family as they both live in groups (pods and packs) and look after their families. Wolves and killer whales adorn regalia today validating transformation stories."
-Patrick Amos
---
More from this collection