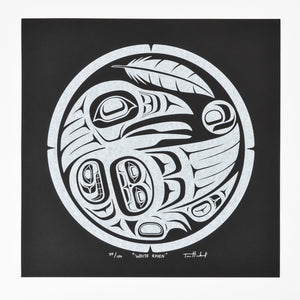 Trevor Husband
White Raven by Trevor Husband
Regular price
$140.00
$0.00
Silkscreen Print
20" x 20"
2020
Edition of 150
White Raven is Trevor Husband's first limited edition print. It shows the legend of Raven, who, according to oral tradition, was originally white and stole the sun and the moon to bring light to the world.

Trevor Husband explains: "Growing up on Haida Gwaii, there was a white raven that appeared in the early 90's in the town of Port Clements. It would perch on the power lines near the gas station. Every one knew it was special, and we would ask if you had seen it if you drove through Port. One of the versions of the well known legend of 'Raven Steals the Sun' tells that Raven used to be white, but after he stole the sun for the people of Earth he got burnt from carrying it down from the sky chief. After that he turned black.

This piece shows White Raven carrying the sun, just before he turns black. The Sun is shown as an egg, as it is in it's infancy. Inside Raven is man, who Raven sacrifices his feathers for to bring them the light. The feather above Raven's head symbolizes this sacrifice."

This design is printed in semi translucent white ink on black paper, emphasizing the relationship between White and Black Raven.
---
More from this collection